U.S. Stocks Should 'Terrify' Janet Yellen
BloombergMarkets  |  by Katherine Burton and Katia Porzecanski
Billionaire investor Paul Tudor Jones has a message for Janet Yellen and investors: Be very afraid.
The legendary macro trader says that years of low interest rates have bloated stock valuations to a level not seen since 2000, right before the Nasdaq tumbled 75 percent over two-plus years. That measure — the value of the stock market relative to the size of the economy — should be "terrifying" to a central banker, Jones said earlier this month at a closed-door Goldman Sachs Asset Management conference, according to people who heard him.
Jones is voicing what many hedge fund and other money managers are privately warning investors: Stocks are trading at unsustainable levels. A few traders are more explicit, predicting a sizable market tumble by the end of the year.
Last week, Guggenheim Partner's Scott Minerd said he expected a "significant correction" this summer or early fall. Philip Yang, a macro manager who has run Willowbridge Associates since 1988, sees a stock plunge of between 20 and 40 percent, according to people familiar with his thinking.
Even Larry Fink, whose BlackRock Inc. oversees $5.4 trillion mostly betting on rising markets, acknowledged this week that stocks could fall between 5 and 10 percent if corporate earnings disappoint.
Caution Flags
Their views aren't widespread. They've seen the carnage suffered by a few money managers who have been waving caution flags for awhile now, as the eight-year equity rally marched on.
But the nervousness feels a bit more urgent now. U.S. stocks sit 2 percent below the all-time high set on March 1. The S&P 500 index is trading at about 22 times earnings, the highest multiple in almost a decade, goosed by a post-election surge.
Managers expecting the worst each have a pet harbinger of doom. Seth Klarman, who runs the $30 billion Baupost Group, told investors in a letter last week that corporate insiders have been heavy sellers of their company shares. To him, that's "a sign that those who know their companies the best believe valuations have become full or excessive."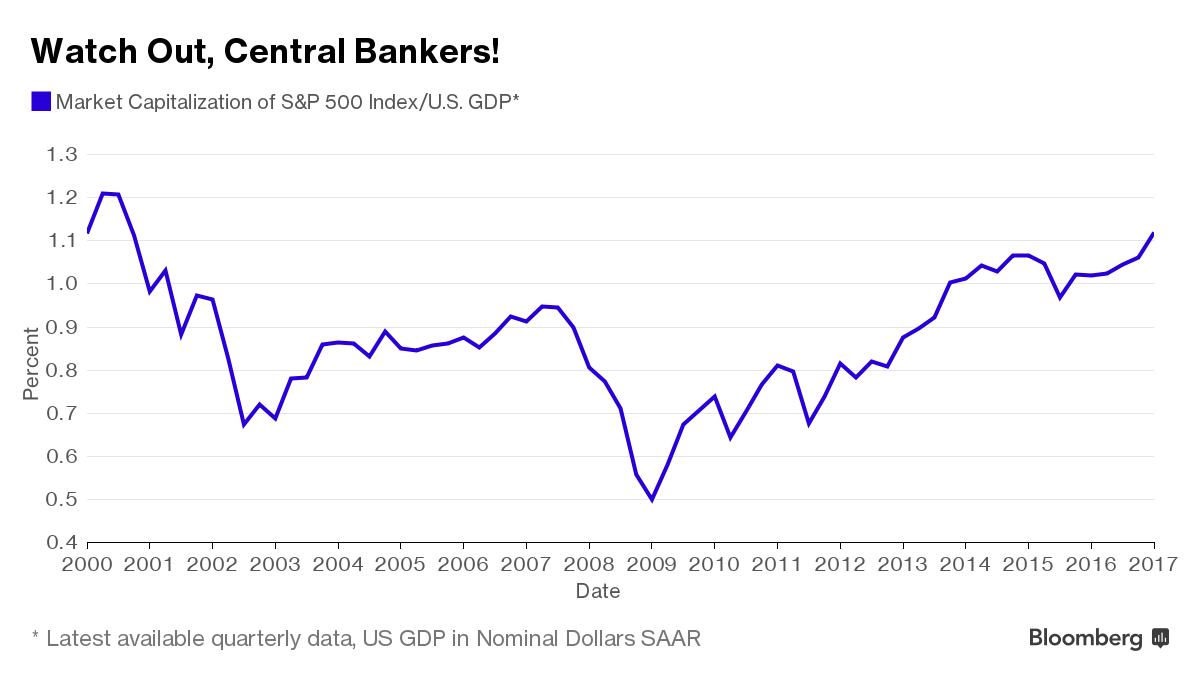 The French election will give the clearest indication yet if the voter rebellion that prompted the U.K.'s Brexit vote and Trump's elevation to the White House resonates in Europe's core.
There are signs the populist wave is faltering elsewhere: voters in the Netherlands opted for Prime Minister Mark Rutte over Geert Wilders last month after Wilders's anti-EU Freedom Party led for much of the campaign; he is not included in talks on forming a coalition. In Austria, a pro-European faced down a challenge by the far right for the presidency in December, while five months before German elections, Frauke Petry's Alternative for Germany party is riven by internal dissent.
Narrow Margins
The French election results could be so close that it may not be immediately clear which two candidates qualify for the runoff, campaign officials for Le Pen and Fillon said, with the assumption being that Macron would qualify. Even so, all surveys during the campaign suggested that Le Pen would eventually lose to any rival in the second round.
Here's a brief rundown of what happens when, in Paris's time zone:
8 a.m. Sunday: polls opened in mainland France
12 p.m. Sunday: Interior Ministry released first details of turnout
5 p.m. Sunday: Interior Ministry updates turnout figures
7 p.m. Sunday: polls close outside major cities, counting begins
8 p.m. Sunday: Final polls close. Both the Interior Ministry and pollsters who participate in counts publish preliminary results. Historically these numbers have immediately showed who the finalists were, though races have rarely been this close, with this many candidates. Pollsters, among others, have struggled to cope with the tightness of the race and the high proportion of undecideds.
Results will roll in throughout the evening, but how long is anyone's guess. Pollsters say Sunday's final result may take hours after polling places shut their doors.
No Responses to "U.S. Stocks Should 'Terrify' Janet Yellen"