Trump Budget Director Says National Debt Needs Quick Action
BloombergPolitics  |  Jennifer Jacobs and Erik Wasson
President Donald Trump's pick for budget director Mick Mulvaney said Tuesday the nearly $20 trillion national debt is a problem that needs to be "addressed sooner rather than later" and that he would push for changes to programs like Social Security and Medicare.
Mulvaney, a Republican congressman from South Carolina, told senators at his confirmation hearing that he would "tell the truth" to Trump about the need for entitlement changes. He said without doing something soon, the Medicare and Social Security trust funds could go bankrupt — while also maintaining he wouldn't advocate cutting benefits to current beneficiaries. And he said the U.S. needed to address the country's nearly $20 trillion national debt, which was the equivalent of an ordinary American family owing more than a quarter of a million dollars on their credit cards.
"Families know what that would mean for them," Mulvaney said Tuesday in Washington as he faces a pair of Senate committees over his nomination to run the Office of Management and Budget. "It is time for government to learn the same lesson."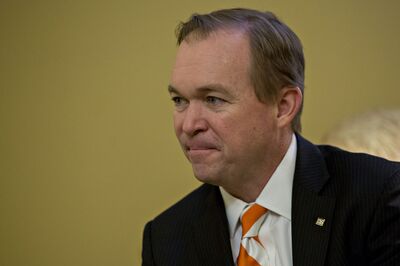 Mulvaney said Tuesday it would be "undesirable" to get to a situation where he would need to consider how the federal government would grapple with hitting the debt ceiling. But, Mulvaney said, he does support prioritizing payments should the nation need to do so.
Senate Budget Chairman Mike Enzi, a Wyoming Republican, hailed Mulvaney as a "vigilant budget hawk" who would help quickly address the nation's "staggering $20 trillion debt burden."
"Congress needs an OMB director we can work with to put our nation on the right fiscal path," Enzi said.
But Senator Bernie Sanders, the Vermont independent who challenged Hillary Clinton for the Democratic presidential nominee in 2016, said Mulvaney's budget philosophy was "exactly opposite" of Trump's campaign vow not to cut Social Security, Medicare or Medicaid.
"The opinions and views of Mr. Mulvaney are way out of touch of what the American people want," Sanders said.
The ranking member on the Budget Committee also criticized Mulvaney after he disclosed that he didn't pay more than $15,000 in taxes for a household employee, noting a similar issue had derailed former Senator Tom Daschle's 2008 nomination to head the Department of Health and Human Services.
Mulvaney said he hired the nanny shortly after having triplets in 2000 and mistakenly didn't consider her a household employee for tax purposes.
"When they came home, we hired someone to help my wife take care of the children," Mulvaney said. "In my mind she was a babysitter: She did not live with us, she did not spend the night there, she did not cook, she did not clean, she did not educate the children. She helped my wife with the kids."
Following his morning testimony before the Budget Committee, he'll appear before the Homeland Security and Governmental Affairs Committee in the afternoon.
Earned Honestly
Mulvaney was part of the wave of fiscal-conservative Tea Party members elected in 2010 and has been one of the most pugilistic advocates for cutting government spending. He is one of eight Trump nominees that Senate Minority Leader Chuck Schumer has placed in "the most troubling" column. More than 50 groups have sent letters to Capitol Hill urging members of Congress to reject Mulvaney's nomination, arguing he's too extreme.
"I believe, as a matter of principle, that the debt is a problem that must be addressed sooner, rather than later," Mulvaney said in his opening statement. He vowed a "hard look at government waste" and said taxpayers "deserve a government that is efficient, effective, and accountable."
"American families earn their money honestly; they expect the government to spend it honestly," he said. "We owe them that much."
Mulvaney is a founding member of the House Freedom Caucus, hardline Republicans who have opposed compromising with Democrats to keep the government operating during budget disputes. He helped lead the 2013 effort that resulted in a government shutdown over Obamacare funding.
"I will be loyal to the facts, and to the American people whom I serve," he said.
At Odds
Mulvaney's long-held position that new spending must be offset with equal cuts elsewhere could put him at odds with the president when it comes time to make good on Trump's campaign promise to invest $1 trillion in roads, bridges and other infrastructure. He was on the losing side of a push to ensure spending on Hurricane Sandy relief was matched with reductions in other parts of the government.
Mulvaney has voted for unsuccessful proposals that sought to cut spending deeply enough to bring the federal budget into balance within a five-year window. Those proposals by the Republican Study Committee, a faction of fiscal conservatives, included raising the Social Security full-benefits age to 70 and changing the measure of inflation to reduce the retirement program's payouts.
On the campaign trail, Trump promised he wouldn't cut Social Security. But Mulvaney suggested that his nomination was an indication Trump planned to govern differently.
"I have to imagine that the president knew what he was getting when he asked me to fill this role," he said.
The most recent version of the group's budget proposal would have given an extra $38 billion to the military while reducing domestic spending by $100 billion, in part by eliminating the National Endowment for the Arts and the Kennedy Center and ending funding for the Washington area's metro transit system.
While a majority of congressional Republicans supported using a war-funding account for regular military needs, Mulvaney worked with Maryland Democrat Chris Van Hollen to demand that all routine Pentagon purchases stay within legal spending caps. Mulvaney's opposition to that cap-skirting maneuver could become another pressure point, given Trump's promise to beef up troop levels and weaponry.
Congress is expecting the administration to send an emergency military spending request in the next few weeks. Mulvaney said he would support Trump's proposed increase in defense spending.
No Responses to "Trump Budget Director Says National Debt Needs Quick Action"